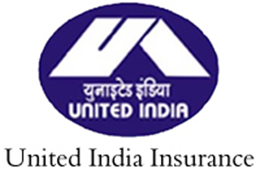 The United India Insurance among all its insurance policies has about five different health insurance policies under its Family Medicare scheme. They are: 1) Gold, 2) Platinum, 3) Senior citizen, 4) Super Top up and 5) Top up.
Family Medicare: In this policy the insured can avail coverage or his family can avail the coverage on behalf of him in any kind of sudden illness or accident. However the insured or any of his family members shall be eligible for cashless treatment or reimbursement of the expenses of treatment on the advice of a certified medical practitioner from any of Hospitals under the network of the insurance company anywhere in India. The claims are always processed by TPA (Third Party Administrator).The reimbursed sum may vary from 10% to 20% of the sum insured.
The entry age for 'Gold Policy' is 36-60yrs. The sum insured varies from 1lac. To 5lacs in multiples of Rs.25000.The policy covers room boarding and nursing homes expenses at not more than 1% the sum insured. However in case of ICU expenses it is 2% the sum insured. Expenses in case of some specific illness like: Cataract, Hernia and Hysterectomy is 25% of the sum insured and for major surgeries is about 70% of the sum insured. Expenses for Ayurvedic, Homeopathic and Unani treatment are admissible only when the treatment is a government hospital or a medical college.
The entry age for 'Platinum Policy' is 3months to 35yrs.Children from the age of 3months can be covered if both parents are insured. The sum insured extends to 10lacs in multiples of Rs.25000. The advantage of this policy is that as many as 35 diseases are covered under this policy starting from major complication to the simplest operation like varicose vein ligation. The authorized hospital bed is limited to 10beds.
The entry age for 'Senior Citizen Policy' is 60yrs.-80yrs. The sum insured varies from 1lac to 3lacs.All the diseases under the 'Platinum Policy' are covered under this policy too.
The 'Super Top up' policy covers in-patient hospitalization expenses incurred in India. This policy responds only when the expenses exceeds the 'Threshold level' as stated in the policy. However it will not cover the expenses in excess of 'Threshold level, received or reimbursed from any other sources.
'Top up Policy' works as a protection at a affordable price when hospitalization price are very high of the insured.