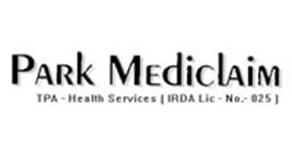 Park Mediclaim Consultant Pvt.Ltd. is a TPA (Third Party Administrator) in corporate in 2001 under the company act 1956, having the license number 025 from IRDA.
The main objective of the company was to provide service to the Insurance companies both PSU and private. Its service has been widely accepted, acclaimed and appreciated by PSU insurance companies. In addition the company is engaged by insurers to manage claims of a number of corporate/groups. Simultaneously their promoters have developed an innovative state of art software in conjunction with an IT expert based on their vast experience and expectation of the insurers regarding the functional procedures involving in servicing the mediclaim and health insurance policy holders. The software has been successfully demonstrated before the insurance companies, corporate/groups and IRDA.
Its main objective is to assist health insurers to achieve access of healthcare facility to masses. To establish and deliver a customized, flexible, sensitive IT based managed healthcare system with competitive advantage and cost containment which would make it a pleasure for all business partners, service providers and policy holders.
It gives a wide range of key benefits to insurers:
Effective cashless service and hassle free claim settlement to policy holders.
It forms part of insurance bench to convince the corporate/groups regarding the policy details and role/benefits of TPA.
Form a network with hospitals at desired location at pre-negotiated and discounted rates.
Control on cost/quality of treatment provided and application of cost containing measures to bring down the claim ratio by eliminating exaggerated and false claims.
The company pools their R & D and database with insurers and advocate use of 'WHO' coding of diseases, creation of common cost of treatment standards and credentials of insurers/service providers.
The company takes feedback and suggestions for categorization of hospitals.
It devises comprehensive, need based, newer and customer friendly insurance covers in line with government trusts.
In addition it has also kept in mind the insured and provided them too with some key benefits:
Prompt delivery of photo identity card or health card to the insured within 3 days of receiving the policy documents from the insurer.
Cashless facility is delivered immediately to the policy holder on receipt of requisite information and documents from the hospital.
It offers an access to 365 and 24hours call center for personal healthcare information.
It provides a free access to grievances redressal committee.
It operates from New Delhi.