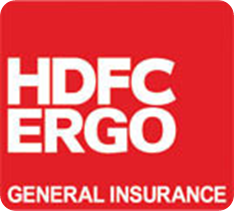 HDFC ERGO Health insurance is another beneficial health insurance in India. It is more commonly known as the name of 'Health Suraksha'. It covers all the expenses of hospitalization and other illness and accidental injuries. An insured can avail health insurance from the age of 45 to the age of 65. The key features offered are:
1. Cashless hospitalization facility at more than 4200 network hospital across India.
2. It gives the option to take cover on individual or on family floater basis.
3. No pre-medical examination up to age of 45years.
4. Cumulative bonus of 5% for every claim free year, subject to a maximum of 50%.
5. Family discount of 10% if three or more family members are covered under the same policy on single sum insured basis.
6. Premium paid is eligible for tax benefit under section 80D of the Income Tax Act, 1961.
Coverage:
1. Hospitalization cover- It covers boarding and nursing expenses, ICU charges, medical practitioners fees and cost of medicine.
2. Pre and post hospitalization- It covers expenses up to 60 days prior to hospitalization and 90 days after hospitalization.
3. Day care procedures- It covers about 141 day care procedure which do not require more than 24hrs. hospitalization due to technologically advance treatment.
4. Domiciliary treatment- It covers expenses of medical treatment at home, subject to a condition.
5. Organ donor expenses- It covers the expenses of organ transplantation and also an organ donors treatment.
6. Ayush benefits- It covers the expenses for Ayurvedic, Unani and Homeopathic treatment.
7. Ambulance Charges- It covers ambulance charges in the event of emergency.
Brochures, Proposal forms, claim forms are available online. One needs only to fill up the form and submit it online. Everything can be done online. One can buy a plan online or process claims online or even ask for support to process a claim. To buy online you can calculate the premium for the sum assured and then proceed to fill the details and submit the form. Claims can be materialized by calling a toll free number for help, where a person can guide the insured through the whole process. One can have the guidance in one's own mother tongue too. For availing 'cashless facility' the FHPL (Family Health Plan Limited) authorizes 'cashless services' to the panel of hospitals under HDFC's network. After recovery inform FHPL to process claims fast.